Royal Institute of British Architects Inspire Students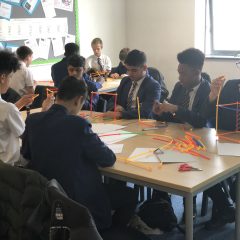 On April 8, we were supported in school by the Royal Institute of British Architects to undertake the Architect Ambassador Programme.
Colin Orr and Luigi Pintacuda from the School of Architecture and the Built Environment at Wolverhampton University ran a workshop, along with Katy Wade from RIBA.  The goal was to inspire within young people a lasting appreciation, enjoyment and understanding of the places and spaces they inhabit.
RIBA Learning believes that every child and young person should have the opportunity to experience great art and design, learn about careers in architecture and use creative activity to explore their own ideas.  Feedback from students was exceptional, and our students had a real insight into the world of architecture.